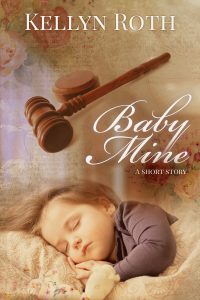 Amaliya Preobrazhensky lives with her mother in a tiny apartment. They don't have much except each other … but that's all right. Every day, God provides.
When Amaliya's father, who hasn't been around since before she was born, returns and a custody battle begins, it's hard for her to understand. Can a man she's never met really take her away from her beloved mother? Why would God let such a thing happen?
This short story/novelette is a perfect afternoon read for both tears and smiles!
---
Baby Mine is a standalone late 1940s short story.
Genre: Christian Historical
Era: late 1940s (Spring 1948)
Setting: Detroit, MI, United States
Age-Range: 12+ (women's fiction)
---
FAQ
Where can I buy Baby Mine?
You can purchase it on Amazon.
I'm a reviewer. How can I contact you if I'm interested in reading your novel?
If you're interested in reviewing Baby Mine on Amazon, Goodreads, or your blog, you can shoot me an email at kellynroth@gmail.com. I'd love to send you an eBook copy in exchange for review.
What age-level is Baby Mine written for?
Although appropriate for tweens+, this short story is geared towards readers twelve through a hundred. (It is written to appeal to both adults and younger folks!)
Is Baby Mine a clean book?
Yes, it is! There is some situational content (an unwed mother, etc.), but nothing is described, and it is through the eyes of a five-year-old girl.