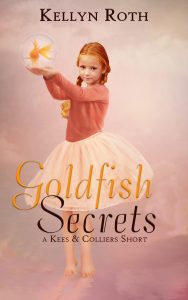 Judy only has one friend: her goldfish, Marlie.
With Marlie gone, who can Judy rely on?
Goldfish Secrets is the short story prequel toThe Lady of the Vineyard.
---
Goldfish Secrets is a standalone prequel short story to the Kees & Colliers series.
Genre: Historical Fiction
Era: 1930s (1936)
Setting: London, England
Age-Range: 4+ (middle grade)
---
FAQ
Where can I buy Goldfish Secrets?
You can purchase it on the following sales channels (eBook only).
What age-level is Goldfish Secret written for?
Although appropriate for all ages, this short story is geared towards readers 4-10.
Is Goldfish Secrets a clean book?
Yes, it is!