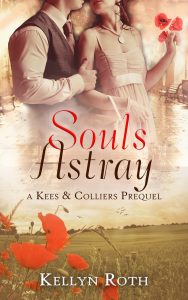 Adele has been lost for a long time now …
Adele Collier has sought a carefree lifestyle ever since her tragic childhood. Determined to never allow anyone or anything to control her life or emotions again, she consistently seeks distraction in gaiety. But shaking her ghosts isn't as easy as she'd like.
Troy Kee has been alone in the world since the Great War took his parents and left him in care of his younger sister. When she marries, he's left to seek after his goal of a healthy, complete family. But how can he focus on his dream when trouble plagues his family vineyard?
When Adele and Troy meet, a whirlwind romance begins—but can two lost souls have a healthy relationship?
"A tragic, well-crafted story of romance, family dynamics, and pain in the years between WW1 and WW2." ~Jana Tenbrook
"Souls Astray is a heartrending novel, full of poignant themes and topics that are important even today. It is a captivating read and will leave you wanting more." ~Michaela Bush
---
Souls Astray is a full-length historical novel. This prequel to the Kees & Colliers series
Genre: Historical Drama/Romance
Era: 1916-1932 (WWI through The Great Depression)
Setting: England (Kent, London, and the French Riviera)
Age-Range: 14+ (young adult)
Join the Conversation: #SoulsAstray #KeesandColliers
---
FAQ
Where can I buy Souls Astray?
Souls Astray is available on Amazon as well as through our store.
I'm a reviewer. How can I contact you if I'm interested in reading your novel?
If you're interested in reviewing Souls Astray on Amazon, Goodreads, or your blog, you can shoot me an email at kellynroth@gmail.com. I'd love to send you an eBook copy in exchange for review.
What age-level is Souls Astray written for?
14+. There are some negative content aspects that are not meant for younger readers. Later books in this series are a lot tamer.
Is there any negative content in Souls Astray?
Characters in this book are seriously immoral in several ways although it is all shown in the light of Christ. Opinions are expressed which do not coincide with the author's beliefs. A full content guide is available here.