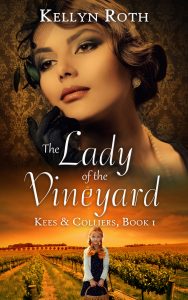 Since her divorce, Adele Collier has pursued her own pleasure at the expense of her daughter. When her ex-husband suddenly reappears in their lives, Adele allows him to take Judy to France with him for the summer. The time apart leads her to realize her daughter is the light of her world, yet she's still not sure she's ready to give up her lifestyle.
Six year old Judy is more than happy to trade her mother's neglect for her father's adoring care. She loves his vineyard and wishes she could stay there forever … but someday she must return to England and her mother. However, Judy isn't sure she can ever trust her mother again.
A sweet novella set in Europe, the year of 1938, this sweet story is sure to delight lovers of light-hearted historical fiction.
---
The Lady of the Vineyard is a historical novella, the first novel in the Kees & Colliers series.
Genre: Historical Romance (light/clean)
Era: 1930s (1938)
Setting: England (London and the French Riviera
Age-Range: 10+ (upper middle grade/teen)
Join the Conversation: #TheLadyoftheVineyard #TLOTV #KeesandColliers
---
FAQ
Where can I buy The Lady of the Vineyard?
TLOTV will be available to purchase in June 2019.
Wasn't The Lady of the Vineyard published before?
Yes, it was, but the rewritten version, which is now over doubled in length, is the only one now available.
I'm a reviewer. How can I contact you if I'm interested in reading your novel?
If you're interested in reviewing The Lady of the Vineyard on Amazon, Goodreads, or your blog, you can shoot me an email at kellynroth@gmail.com. I'd love to send you an eBook copy in exchange for review.
What age-level is The Lady of the Vineyard written for?
I generally say 10+. Some of my biggest fans are tweens, though it can also be enjoyed by middle grade to young adult audiences.
Is there any negative content in The Lady of the Vineyard?
Two of the main characters are divorced; this is treated as wrong. Alcohol abuse/drunkenness is mentioned. Physical attraction between a (formerly married) couple is dealt with.
---
SOME OF KELL'S FAVORITE POSTS ABOUT TLOTV
Interview at Aardvark Magazine 
The Lady of the Vineyard Blog Tour, Day 1
The Lady of the Vineyard Blog Tour, Day 5
Character Interview with Troy Kee (August 2016)
Character Interview with Mrs. Collier (July 2016)
More On The Lady of the Vineyard