When you read that title, you probably rolled your eyes a little. "Oh, no, now she's doing boring ol' history posts. Reveries is going to the dogs. Time to unsubscribe …"
Well, stop right there. No unsubscribing is allowed. First, you're going to enjoy this post. Second, if 'first' proves untrue, you should know that I probably won't be making a lot of posts like this because I never research … so ….
Okay, I'm kidding. I do research sometimes. Just … less than I should.
As you may or may not know, I'm writing a historical fiction novel, Once a Stratton, for Camp NaNoWriMo (12K now!). This book features the Underground Railroad. For this, I had to do a little (hehehe) research.
So. Today I'm briefly sharing what I've learned with you. In the form of an interview.
What is the Underground Railroad?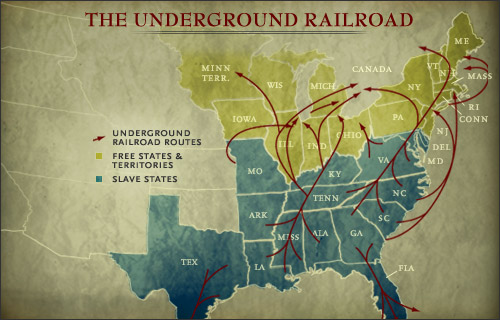 From about 1800 to 1860, as many as 100,000 (the number is greatly debated) slaves escaped through the Underground Railroad. Only a small percentage of the slaves in the southern United States (an estimated 4 million existed in 1860) escaped, but 100,000 is still an impressive number.
This was an illegal network of secret routes ("tracks") and safe houses ("stations") which escaped (African-American) slaves used on their way to reach the "Promised Land" or "terminal," Canada. Slaves would also escape to Florida, Mexico, or the West.
There was no actual train, no actual tracks. However, this term – first used around 1840, from what I can tell – was a safe way of discussing this top-secret operation. They also used words such as "package" and "freight" to describe the escapees and "conductor" or "operative" to discuss the Abolitionists aiding the slaves.
What were "safe houses"?

Safe houses, a.k.a. "stations", were usually in the northern United States though a few probably existed in the south. They consisted of a sympathizer's house, barn, or cellar where slaves could hide during the day. Churches were also common safe houses. They might even use a cave if nothing else was available in the area. At night, they would begin their travels again.
"Stations" oftentimes had secret compartments, some of which are still existing today.
Did most slaves have help escaping or did lots have to go it alone?

Technically, the Underground Railroad was a series of Abolitionists helping slaves. These Abolitionists were sometimes Quakers (or other whites) as is most commonly believed, but freed slaves were the most common "conductors." Still, there were quite a few non-African-American people working to free the slaves.
However, many slaves did escape without any help from the Underground Railroad. Usually, slaves would choose to escape on their own without being prompted by a member of the Railroad (such as an "agent", who would seek out slaves in the south to help), and they would later receive help from people along the way. There was often little help available until they got to the North, after which they would simply slip from house to house.
There is also no physical evidence that quilts, lanterns, or any other kind of sign – at least not one that wasn't changed frequently – was used to guide slaves from safe house to safe house. These are appealing but impractical ideas.
And the Southerners just calmly ignored all this?

Ohhhh, no! The slave-owners didn't take kindly to the Railroad. That was why all this had to be such a big secret! They hired bounty hunters. The escaped slaves and those helping them had to travel only by night, quickly and quietly, in constant fear of these 'slave-catchers.'
Remember, this was also illegal. Members of the Railroad took a huge risk every time they travelled South, and they were only able to help a few escape every time. Harriet Tubman herself "only" made nineteen trips. That is a great many more than most risked, and she was definitely one the bravest women in the history. I'm honestly becoming a fan of "Moses."
How does all this work into my novel?

In Once a Stratton, Chris and Lilli eventually get involved in the Railroad through Lilli's Quaker friends. (It makes sense … they're in Philadelphia, Quakers are in Philadelphia, most Quakers don't support slavery, some Quakers are members of or supporting the Railroad …)
They make three or four trips into the South to help escaped slaves, almost getting caught during the last one. They also do some other stuff, but I'm not going to give you all the details. This post is long enough already for a "short" post. 😉
---
Now, here's the thing … I'm not 100% sure all of that is 100% fact. I did my best using Google, Wikipedia, and various history sites that I believe are reliable. I tried to separate myth from fact, compare different information I got, and use common sense.
And I think I got it right.
If you are an Underground Railroad scholar, don't be shy about telling me of any mistakes you notice.
Until Friday,
Ta-ta!
~Kellyn Roth~
Bloglovin' · Pinterest · Facebook
p.s.
How much of that did you know? Did you enjoy this post or should I never post such a horror again? Did you find any of this interesting?
How's Camp NaNoWriMo going for you? Are you satisfied with your word/page/etc. count? Are you pleased with the work you've done?