Would you like to join my street team?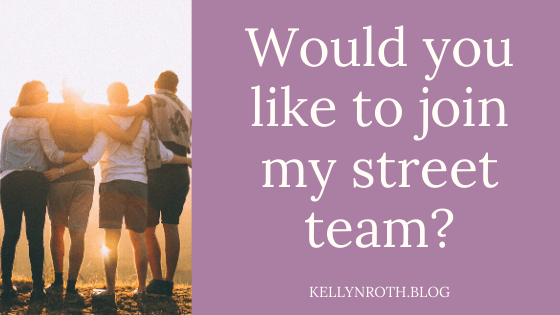 Guess what, y'all?
With my release for Ivy Introspective coming up, I've decided to reformat my street team.
A street team is a group of readers who are excited to share about an author's book in one way or another (review, sharing about it on social media, simply telling friends, etc).
Soooo … I have a form up for anyone who's interested!
After this, the street team will be closed for an undetermined amount of time.
Street Team Members Gain:
Free access to Kell's novels in ebook format.

Early updates on all Kell-related projects.

Viewing of book covers months in advance of launch.

Exclusive snippets & behind-the-scenes updates.

TBD prizes/giveaways/etc.

Access to the beta-reader team.

& more!
Potential Street Team Duties (flexible, may be expanded upon):
Sharing about Kell's latest releases.

Reviewing Kell's new releases.

Helping Kell get the word out about her latest releases.

Sharing about Kell's promotions, giveaways, etc.

Praying for Kell's launches.
**Note: no duty will be required, but after a period of unexplained inactivity, a street team member may be removed. The street team member may choose to leave the group at any time.**
Sound interesting?
And that's it! The launch is coming up pretty soon, and I'm super excited to share it with you! Ivy Introspective is a sweet story, and I can't wait to hear what you think.
TTFN!
~Kell~
Want to keep getting amazing posts in your inbox? Follow my blog on the sidebar!