5 Things Historical Heroines Need to STOP Doing
Hi there, everyone! This post is sort of a follow up to one I did a while back, "Excuse Me, You Got Some Feminism in My Regency Romance."
These are just some general observations about the heroines of all historical fiction – though, again, pre-1900 is when most of this takes place.
BUT … this is not the same "attack on feminism," per se, you got from that other article. 😉 I'm not entirely exempt from including details that could be considered "feminist": I write novels that are character-heavy and therefore deal with real women's issues of the period.
The reason being is, I don't think it's fair for women to be abused based on their gender, and I firmly believe the Victorian era made morality into a Big Mean Monster instead of a safe fence between humanity and what is harmful.
HOWEVER … hit me if I ever let my historical heroines do these five things and get away with them unpunished.
Let's get into it!
1: Not reflecting the beliefs and traditions of their era in any way, shape, or form.
Y'all … we just can't keep doing this.
How many times have you read a book where the heroine doesn't seem to understand that she's living in a historical era?
How many times has she turned down marriage offers because "she wasn't in love"?
How many times has she spurned anyone espousing beliefs from their own era?
I want accuracy, y'all. I want women who feel like they BELONG in the era we've been told they live in. Am I right or am I right?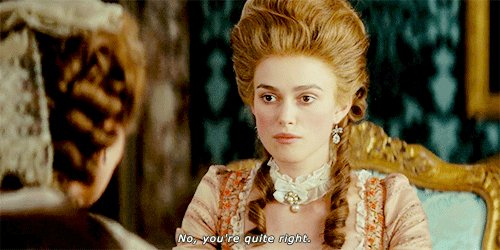 Even Keira Knightley says so. I mean, albeit out of context. (I don't even remember what was going on in that scene, honestly.)
My point is … we can't have heroines always rebelling. And furthermore, always getting away with rebelling.
If women were getting oppressed, and if you want to prove that point with your novel, then SHOW the oppression. A rebellion is nothing without an oppression.
But if that's not the point of your novel (because it is a heavy, complicated topic to cover), perhaps you need to lean back and only show said "oppression" as a natural part of their lives.
2: Being ceaselessly rude and prickly to EVERYONE, even their "knight in shining armor," and getting away with it.
Sometimes I'm left wondering … why do we love these people?
Basically: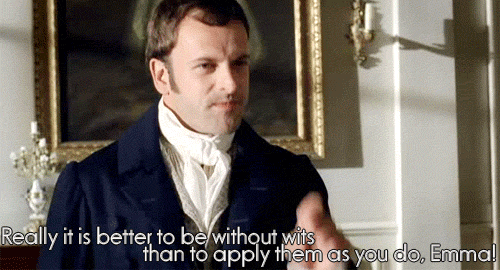 I do not understand why these historical heroines get away with being rude!
Most recently, I started a book where the heroine was relentlessly picking on everyone within five miles of her.
Her stepmother is vapid. Her stepsister is childish. Her suitor is old and ugly (even though he was honestly kinda sweet, and it's not his fault he is a Regency Gentleman with no regards to Modern Romance Standards).
And she lets them know it with her words and actions! And then treats them like idiots for being annoyed and/or angry with her.
She was just. so. rude. all. the. time. to. everyone.
Basically, she doesn't have the talent of conversing easily with ANYONE, and it's because she's a complete brat. And that drives me crazy.
If you're going to espouse Disney princess-esque values, at least have the decency to be as pleasant as a Disney princess!
3: Saying they're not interested in material things (money, titles, etc.) but then bellyaching about material things (age, appearance).
In most historical romances, the heroine's primary issue is she wants to marry for love. And that's fine – in modern day society, we are able to do that, even if it's not a very good reason to form a lifelong bond.
That'd be fine as long as she doesn't fall in love with a complete jerk. However, these heroines always espouse the view that they don't want to just marry for money or a title or whatever the case is … and then insult every potential suitor they're not in love with.
Now this may seem nitpicky, but … if you don't care about material possessions, dear historical heroine, why do you care SO MUCH about how your potential husband looks?
Why do you go on for pages picking at nice gentlemen who are actually giving you the complement of trying to start a courtship with you?
This was actually parodized (somewhat) in Jane Austen's Sense & Sensibility when Marianne picks on poor Brandon because he's old and unattractive – but then (spoilers) ends up with him anyways.
I want more stories like that – because otherwise we're saying, much like Mr. Darcy to Elizabeth Bennet, that you have to be "handsome" to get a husband wife.
(Don't worry, Keira. You're actually handsome enough to tempt anyone. Though I would say … pretty … because you're a girl. #MrDarcyisaWeirdo #ButActuallyThatsRegencySpeak #ForBeautiful #So #There)
4: Being constantly discontent and never, ever settling for "this provincial life."
Even if "this provincial life" is that of a hugely privileged upper class lady. *coughs*
I just … I don't get it, y'all. These historical heroines are constantly TURNING DOWN THE DREAM LIFE.
Look. With the right man, you can form an awesome marriage with or without those stomach butterflies (which, studies show, only last for a year or so before they fade – unless replaced with something deeper than infatuation).
And then … who said that you're not going to love just being married? And just having kids? Those are both great things! Not for everyone, sure – but you've been raised from infancy to believe that those were the End Goals, and somehow you've managed to shuck that off?
If a woman is going to be hesitant about marriage, she needs a better reason than "the author told me I was." Maybe her parents had a horrible marriage. Maybe she has something else going for her that she doesn't want interrupted.
But … maybe it would be a stronger story if a historical heroine accepted the era she was born into and the "provincial life" coming her way, and then realized that money and titles and good looks are nothing compared to a Godly man who will be her best friend and partner in everything.
Maybe she gives up the handsome young rake who wants to sweep her away from normality and let her do all kinds of scandalous things like pursue her Astrology Hobby. Maybe she marries the 40-year-old Earl of Biscuitown. Maybe she's very happy with a grounded adult who is willing to build something strong with her.
Maybe she can do better good in the world because she's a countess instead of having run off with her stable boy lover. Maybe everything is not about her.
I know that's not romantic. It doesn't have to be that extreme. But if all our heroines want something abnormal, then it's not abnormal anymore. It's cliche. It's a trope. And not a very entertaining one at that!
Honestly, historical heroines are pretty awesome when they're just being historical heroines. That's why we read these books! Because of the era. Because of the people. Because it's different.
(This is the most English thing ever.)
5: Trying to be Elizabeth Bennet … and failing to understand what made that character great.
Elizabeth Bennet is fantastic. She's a well-developed character who has many faults, but is still very likable. A lot of people relate to her! I'm not gonna lie about that.
However, not every heroine can be her. In fact, I don't think I've met a single heroine who has gotten close to being her. Which is where this branches off into two issues:
Not every heroine can be Elizabeth.

Authors don't seem to understand why Elizabeth was such a great heroine.
To address the first one, we'll have BULLET POINTS:
We need more diversity among heroines.

We need Elinor and Marianne Dashwoods. We need Emma Woodhouses. We even need a Fanny Price or two.

And … we need original characters not inspired by Austen!

We need characters who aren't snarky. Who are shy.

Who aren't looking for romance. And who are. And who aren't thinking about it either way.

Basically, we need lots of different kinds of heroines. Imitating Elizabeth Bennet is not an option!
And for the second one, we'll also have bullet points:
Reasons Why Elizabeth Bennet Was a Great Heroine
She's not a stock character.

She's a unique human being with real thoughts and opinions – and real faults.

She does understand the era she lives in, but she also is human enough to be timeless.

Believe it or not, modern-day feminism being inserted into your historical romances will not make them timeless – they'll probably end up pretty dated in short order!

She has a unique personality without being flawless.

Though Elizabeth is pretty admirable, she also has a lot of flaws that make her more human. This combination is what creates a great heroine!
In summary, creating a good heroine involves more than slapping a cliche on top of a trope and hoping it turns out all right. You can't just use a stock character that has no basis in reality!
So let's all go out there and write/read only the best of the best.
TTFN!
~Kell~
p.s.
What are your thoughts? Do you agree with me or do you think that I ought to give historical heroines more of a chance? Also, do you adore Elizabeth Bennet? 'Cause I honestly do …
Want to keep getting amazing posts in your inbox? Follow my blog on the sidebar!