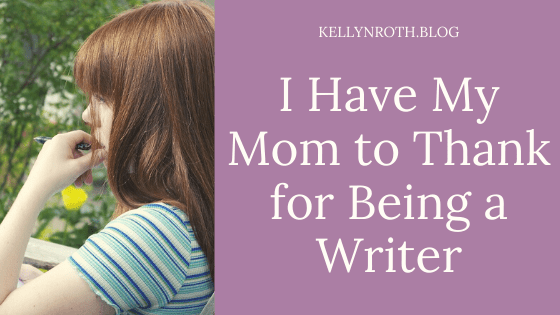 Today I wanted to write a very brief post (as it is the day before Mother's Day!) explaining briefly why I have my mom to thank for being a writer.
This won't be a gushy post full of sentiment, as I'm incapable of such a thing, but it definitely includes some logical reasons why I probably wouldn't have ended up writing (or at least not as much!) without my mom.
She homeschooled me.

This is probably the biggest one, because if I hadn't been homeschooled, I wouldn't have had the time I had to write.

She encouraged me to write both poetry and prose on the regular.

It was both a part of school and leisure time for me.

She read to me constantly growing up and supplied me with lots of good books to read myself.

Reading is the #1 way to improve your writing, and it has so many other benefits.

She encouraged me to play, provided lots of different toys, and kept me from watching too much TV.

This was where I started making up stories – playing with my little brother and our various figurines and play structures.

She also gave me access to tons of good movies and TV shows.

Though I don't think always being inside watching TV is the best activity for a growing kid, we did watch lots of awesome movies and TV shows. A lot of them really inspired me!

She didn't just give me modern things.

We watched and read the classics. And listened to them. And learned them. Music, TV, movies, books … you name it, we had something older than whatever you were raised on. This was a huge blessing!

She taught me a lot of history. And I mean a lot.

I am honestly shocked how little sunk in during my friends' history lessons. Like, were y'all even paying attention? Or did you just not do history in school? *raises eyebrows* My mom made our history memorable enough that it stuck with me.

She wasn't one to encourage immaturity.

I'm sorry, but half of the world is so immature, and it drives me nuts. As a kid, I felt like I was treated as an adult. Though that probably wasn't all on my mom (probably as much on my big siblings!), she did expect me to obey (even though I never did *coughs*), and that pushed me to be a grownup.

She didn't often allow me to waste my time on stupid things.

Yeah, once or twice, but for the most part, we didn't waste time.

She made me memorize poems and Bible verses.

I still hold the memorization is super good for the brain.

She's edited most of my books.

Including many drafts of The Dressmaker's Secret!

She's just a really good mom.

Good moms hold this world together!
TTFN!
~Kell~
P.S.
What about you? What did your mom encourage you to pursue?
Want to keep getting amazing posts in your inbox? Follow my blog on the sidebar!