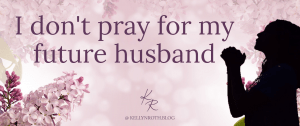 Hey folks! Good morning! How's everyone doing?
I've had this post in my drafts for forever, and I figure my days of being able to publish it are coming to an end—so why not now? Let's just do it. 😉
This is something I thought through as a teenager and have stuck to since:
When I'm single, I do not pray for my future husband.
I don't pray that he's all right. I don't pray that he's following Christ. I don't pray that he is working his way toward me, that he is growing as a person, that he is doing all I want my future husband to be doing before I meet him …
I try, as best I can, to not even think about my "future husband."
Why? Because, y'all, he might not exist! He just might not! And I refuse to pray for someone who doesn't exist, someone imaginary.
I will pray for men in my life, whether or not I view them as a potential future husband.
When I'm dating, I pray fervently for my boyfriend (or even a male friend who might become a boyfriend), both for the potential relationship and for them as a person.
I pray that I will be godly in whatever relationships are brought to me.
I will often pray for the future outcome I want—even though I know, whatever happens, it is God's will for my life.
But for my future husband, as a specific individual, when I don't know anyone who might fit that roll? No. I do not pray for that person, and I never will.
Now that I've laid out my basic premise, let me go into detail about why I think it's a bad idea to pray for a future "Someone" as a young lady.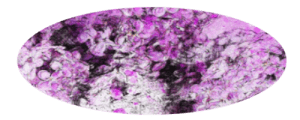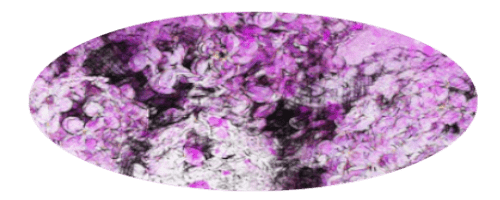 1: It breeds unrealistic expectations.
We're fallible human beings, and no matter how noble your intentions, some of that lack of reality is going to seep into your prayers – and therefore your thoughts, both aware and unaware.
When we pray for someone, they become a part of our world in a deep way. Bringing that fantasy of a perfect man waiting for you somewhere is not a healthy thing to do!
You're essentially creating an imaginary "future husband" in your head and putting a legitimate effort into his "upkeep" (spiritually). That's kind of messed up, don't you think?
2: It cuts out the potential for singleness in your heart.
Praying for your future husband is like saying, "I don't believe I could possibly be single." And the truth is that someone people ARE going to go through life unmarried, whether they like it or not.
Look. I'm a big fan of marriage. I'd very much like to be married myself. However, that doesn't mean it WILL happen. God is guiding my life in a perfect plan created by Him before the foundation of the earth …
And nowhere in that plan are we owed anything.
God loves us. He knows what's best for us. But you DO NOT. You do not know what's best for you.
There's absolutely no harm in praying for something we want – that's a big part of our relationship with God! – but praying as if that wish has already been granted and we expect nothing less?
I don't know the hearts of everyone who prays like this, but personally … it feels presumptuous. We can presume upon God's love and grace for us, but not upon WHAT that looks like in our lives.
3: It dishonors your ACTUAL (if such exists) future husband.
Essentially, God-approved infidelity? Yay?
*sigh* Look, y'all. I know a thing about creating fantasies and then watching them crumble. I do this even without this whole "pray for your future husband" thing.
You may feel like this is a bit of a big leap, but I don't.
The fact is that your prayers themselves are not wasted. God is hearing them regardless, and He is taking care of you (and a potential future husband, should such exist) and building a relationship with you because of those prayers.
However … as you pray, I'll repeat it again: you are human. And prayers are a kind of thought that really seep into our being.
Though it's probably possible to avoid it, these prayers are going to breed expectations and thoughts about your future husband, and you are going to assign an imaginary existence to him, and you are going to feel a bond to that imaginary existence.
I don't think this is universal, but I've seen how easily it can happen. And, compared to your imagination, how can any real man match up?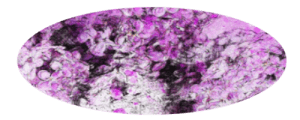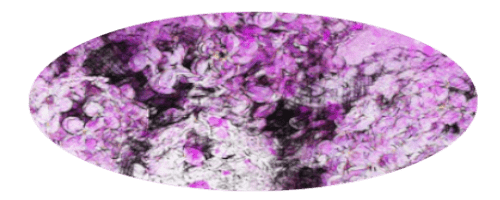 But is it ever okay to pray for …?
Well, all this said, I think there are prayers, many prayers, for single women who long for a relationship. However, they are not, "Lord, keep my future husband safe for me and make sure he's all I want."
The correct prayers would vary per the individual, but they'd be more like, "Lord, if it is Your will, send a man of Your choosing into my life." "Help ME be all he NEEDS." "Give me the strength and wisdom to follow Your guidance in whatever relationships You send my way." "Keep my thoughts and prayers pure while I wait for Your next step."
These are all excellent prayers, and there are many like them.
But praying specifically for your "future husband" daily is just going to lead to the issues I outlined above.
It's really none of my business how you pray, however. That's 100% between you and God, and He isn't, from what I've heard, too picky.
If you're continually seeking God on a daily basis, regardless of what you're seeking Him on, that relationship work is going to go somewhere. He will work on your heart.
However, personally, I do not think it's helpful to pray for an imaginary future husband.
And, as I noted before, if you're not coming to God first whenever you DO get in a real relationship with an actual man, that's a problem, too. Pray for your boyfriends, your boy (space) friends, and all the other men in your life!
Find out what their prayer requests are and actually pray for what THEY need prayer for. Keep the focus off YOU and on the MAN and GOD HIMSELF! So don't pray, "Please let this guy check off every requirement on my list." "Please let us start a perfect relationship." "Please let him be the one."
Instead, pray, "Lord, help me be a godly influence in his life. Please help him in the areas he needs; please help him grow toward you. Help me be selfless and loving to him, as a friend and then, if it is Your will, as a romantic interest. And help him, because I know he probably has the same doubts and fears I do."
And so on.
Basically, focus off YOU and YOUR needs — focus on God and the man's needs.
And I say this as someone who is guilty of the same problems. Oftentimes, when I first meet someone, my prayers are pretty selfish. "Don't let me find anything horrible out about him." "Just make it work together, God." "Isn't this taking a lot longer than I planned, Lord?" "Why aren't You telling me what I need right now?!"
Yet that's not the attitude we should be approaching relationships with. Any kind of relationship, but the romantic ones especially.
Marriage is not about someone fulfilling your needs, giving you hope, fitting a guy like a puzzle piece into the spot in your life that you've already prepared for him.
It's about giving God control of the timing for a relationship that should be lifelong. It's about selflessly serving—and, of course, finding someone who's prepared to selflessly serve you in return.
And … there's a lot more to marriage, of course. But we've gotten rather off topic.
In conclusion, I just want to say, you do you …
But as for me, I see no benefits of praying for a potentially nonexistent man—and, in fact, risking creating an imaginary human who does what you want and exists only if your fantasies.
TTFN!
~Kell~
P.S.
What kind of praying do y'all do (or have done) for a future relationship? I'm curious to hear your perspectives on this topic!