Introducing Like a Ship on the Sea

My next book is releasing in September 2023, so now's a good time to talk about it, right? Let's do a book intro, talk about our main characters, and in general just reveal some information!
Introducing Like a Ship on the Sea
The Blurb
If God asks you to confront a storm, how dare you stay in the harbor?
Lady Mary Cassidy O'Connell has a dream that can be summed up in three connecting ideas: a loving husband, adorable children, and a home of her own. Her mother's lack of care makes life difficult for Cassie, and an escape is necessary. The plan? Marry Aubrey Montgomery, the man her parents have chosen for her, and find the peace she craves.
Unfortunately, Cassie is uneasy about marrying Aubrey. Her apprehension grows as she witnesses her dearest friend's loving marriage take place. At this wedding, she catches the eye of Patrick Hilton, son of a wealthy American. Like Cassie, he's also set to marry a woman chosen by his parents—only, Patrick claims, he is content with this choice.
Torn between her desire for happiness and the knowledge that God is leading her in a different direction, Cassie confronts the impossible decision. Is a loveless marriage of obligation better than being alone, or will she set sail on a voyage without a safe harbor?
Like a Ship on the Sea is the first novel in The Hilton Legacy, a stand-alone trilogy featuring characters from the author's first series, The Chronicles of Alice and Ivy.
The Series
As noted above, Like a Ship on the Sea is the first novel in The Hilton Legacy, a trilogy featuring the three Hilton siblings as they navigate life and love!
The whole series will discuss the complicated legacy left by their parents and how each sibling responds to the burden of the past and the opportunities of the future. It spans various portions of the 1880s and will feature … well, a lot of very different stories.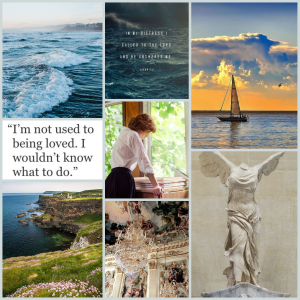 Above it my attempt at an aesthetic for Like a Ship on the Sea, but the next two are actually done by Grace A. Johnson. (Thank you, Grace!)
Introducing Cassie O'Connell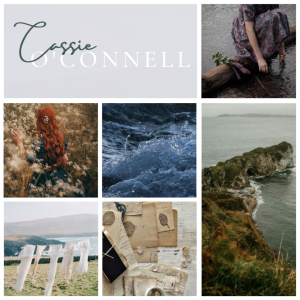 You may be familiar with Cassie, or Lady Mary Cassidy O'Connell, from The Chronicles of Alice and Ivy. If you don't remember her, well, she's Alice's best friend from boarding school. They debut together and share a lot of other experiences. Cassie is Alice's bridesmaid when she gets married (Ivy being her maid of honor).
A few facts about Cassie:
She's Irish and a member of the English nobility, which leads to some mixed feelings from her fellow peers.

She resembles her very Irish grandmother.

Said grandmother apparently married her grandfather despite being a fairly Normal Person and him being an Earl. I kind of want to write a short story about them some day!

Cassie was shy and timid as a child (and a teenager, and a woman), but in recent years, she's starting to come into her own, with God's help. Seeing her mature has been so fun.

She's probably one of my favorite female characters to date, honestly. Mostly because she actually listens to God even though she is flawed, and she's softer than a lot of my heroines, too, which is just interesting.

Cassie is an A+ confidante. Maybe better than Nettie. I know that's a bold claim, but I am MAKING IT.

Years of Alice have worn away whatever nerves she had and now she's pretty calm. Honestly, she's unflappable, in general, despite having miscellaneous fears, uncertainties, and wild moments to deal with throughout the book. And I find that terribly admirable.

Longs for adventure in the "great wide somewhere." Probably would be a really epic Disney princess, honestly.
Introducing Patrick Hilton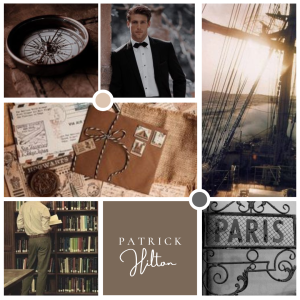 Patrick is a new character, but he enters the scene as the son of an old friend of Philip Knight. An American, an heir to a massive shipping company, and a product of years of bitterness between his parents, Patrick was an interesting character to write. He has a lot of growing to do! And watching that growth was painful.
The physical representation of people-pleasing and parentification.

Loves his sisters, Lorelei "Lore" and Gwendolyn "Winnie," intensely. Also intensely annoyed by them, but that's probably because of their misguided matchmaking attempts.

He laughingly calls himself American royalty, but he's not far off.

Loves children. Like, this is a man who sees a baby and Must Hold The Baby. (He is the same way about puppies.)

Probably insanely privileged, but somehow it just doesn't feel like it … maybe because his daddy works him like a slave. But still, he will probably have some work to do to be grateful for what he has in the future.

Probably would be on 5-10 different anxiety meds in the modern-day world. (He would take them rather than addressing the underlying problems, which have to do more with his circumstances than anything.)

He's too forbearing. With his sisters, with his friends, with his parents.

Has a Belgium shepherd (only this is before the breed was officially created) named Bellona "Bell."

Lots of traveling, but only for work reasons.
And that's all I'll share for now! But I'll come back with more thoughts some time soon, hopefully!
TTFN!
~Kell~
P.S.
Are you as excited as I am? Do you have any predictions about this next book? I'm curious to know if you have any guesses about what it'll be about!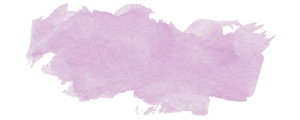 Are you interested in getting to know me & my books better?
I want to invite you to my super secret club. I mean, it's not really a secret, because I'm telling you about it now, but here goes.
Join Mrs. Roth's Society Column, my street team! We'd love to have you along for the ride!