Five Fall Favorites, Day 3: Serieses
Hello ladies and gents!
Welcome to my blog … and to my THIRD post in Five Fall Favorites 2017! I'm sure you remember the amazing blog party we did last year, and if you don't, this invitation will give you the highlights:



To find out more, check out today's post by Rebekah A. Morris. Through this post, you will also find the other blogs participating, etc. Which is all stuff you need to find the "book room" for the day. (More on that later!)
Basically, we're sharing our favorite books in six categories, handing out free ebooks, and giving away a grand prize including several paperbacks! (The winners will be announced this Saturday.) (And if we get enough entries, we will add a second … and then a third … prize!)
We're going to have so much fun! I can't wait to share my favorites in each category with you. This, especially, was a fun category for me … but you'll see!


And now, our feature presentation …
Serieses
This was hard … because I hard to narrow down all the awesome. I know sooo many amazing series, and picking just one? Let's just say it was a trial. However, it was a lot of fun.
Here are five amazing series (that you should probably check out!)
Edwardian Brides by Carrie Turansky
I just can't explain how amazing this series is. It is definitely my favorite Christian Historical Romance series; I don't know where it ranks with all the other books, but it's high on the list.
Review of Book 1| Review of Book 2|Review of Book 3
Buy on Amazon ~ Add on Goodreads
Wings of Glory by Sarah Sundin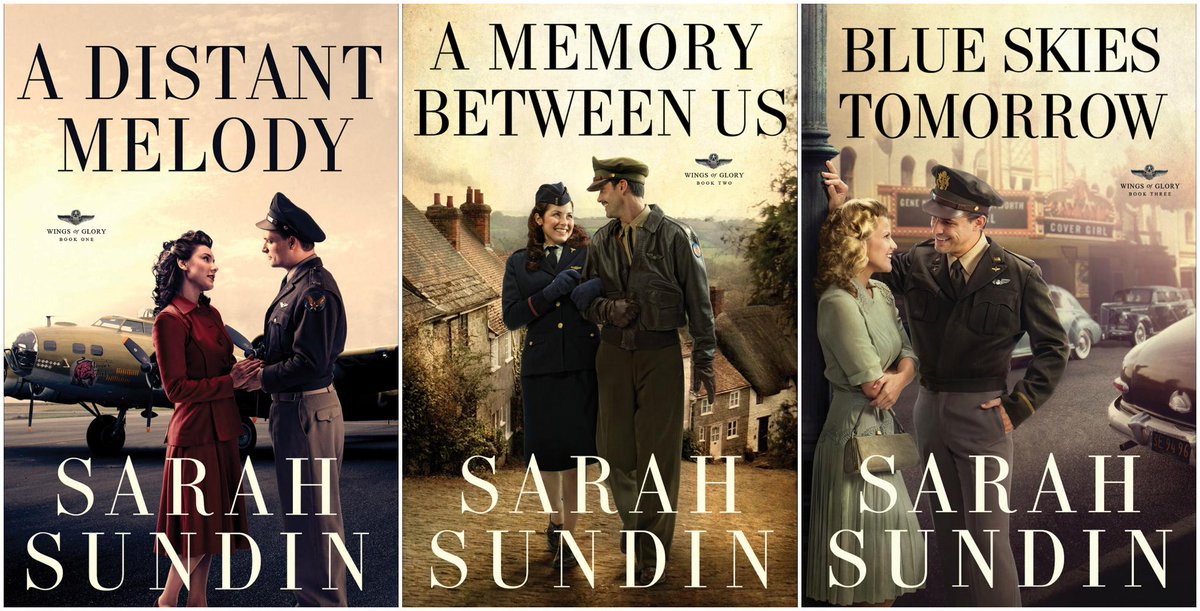 What can I even say about this series? The era, the characters, the Christianity … oh, gosh. It is just soooo good! There's no author and no series I recommend more than this one to lovers of WW2 fiction. Seriously. It's amaze!
My Review of Book 1 | My Review of Book 2 | My Review of Book 3
Buy on Amazon ~ Add on Goodreads
The Ultimate Nyssa Glass by H.L. Burke
Which reminds me that at some point I really need to review this. This was a great series. I didn't expect to enjoy it (what? My family's thing is beating up on each other … I think … at least, I'm assuming so … I haven't been giving the Official Family Guidebook, you see …), but I really did. It was clever, unique, suspenseful, and funny all at once.
Buy on Amazon ~ Add on Goodreads
The American Journey by John A. Heldt
Although this is a secular series, and some of the books have quite a few content problems, I'd recommend it. Just be careful about which of the books you choose to read if you're a young adult reader. I have actually not read the first book in the series (they all function as stand-alones), but I've read all the rest and enjoyed most of them.
Check out my review archives on my blog and scroll down to "Heldt" to read reviews of all of the books except the first one.
Buy the 3rd Book on Amazon ('cause that's my favorite) ~ Add on Goodreads
Betsy-Tacy by Maud Hart Lovelace
I felt that y'all needed a children's series. So here I am. Anticipating your need. Really, though, this is one of the best series out there. The author based it off her childhood, and that makes it that much better. Who does love author Betsy, sweet little Tacy, no-nonsense tomboy Tib, and all the rest?
Giveaway
The grand prize consists of a basket filled with …
• Signed copy of Dylan's Story by Rebekah A. Morris
• Signed copy of Dandelion Dust by Faith Potts
• Signed copy of Kate's Innocence by Sarah Holman
• Signed copy of The Twin Arrows by Kate Willis
• Signed copy of Journey to Love by Amanda Tero
• Coffee Nut M & M's
• Packets of Apple Cider
• Cute Fall Mug

If we reach 75 people we'll add a 2nd prize. If we reach 100 people, we'll add a 3rd prize.
"Book Rooms?"
Now, here's another way (besides the giveaway) to get your hands on some free books!
Every day, one blog in the party with host the 'book room.' The 'book room' will have a free ebook – probably a short story or novella – for everyone!
THOU SHALT GET EBOOKS. (You can track down the book room through Rebekah's blog.)
My room for today is …


*dons a hobo outfit* *pats seat beside me* Take a seat and tell me all your problems, dearie. *grins creepily*
Until tomorrow,
~Kellyn Roth~
Facebook | Goodreads | Bloglovin'
p.s.
What are some of your favorite serieses, my precioussss? Do you loves the bookses I loves, my preciousssss? What are your sssssecretses? TELL ME YOUR SSSECRETES!