At Her Fingertips, Blog Tour & Launch, Day 6 – Siblings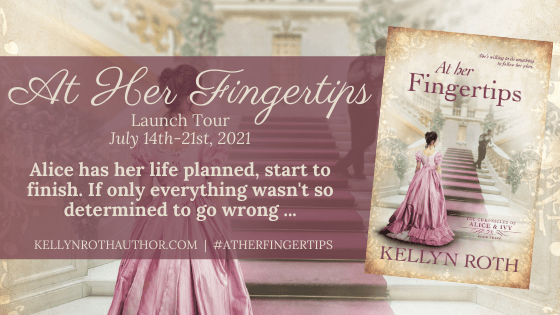 Okay, so I don't know if you know this, but Alice and Ivy have not one, not two, but for younger siblings! And I kind of count Nettie's three in that number, too.
So why not have a day dedicated to introducing them? I've always wanted to talk about them more, but there never seemed an opportune moment … so I'm making one.
I'm talking about Alice and Ivy's varied siblings. Because I know way too much about them. And now you must, too.
But we'll also have our daily CELEBRATIONS and suchlike! So yay celebrations!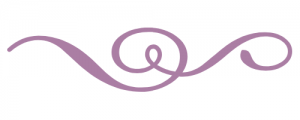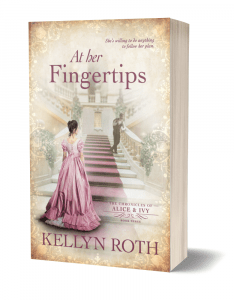 ABOUT THE BOOK
She's willing to do anything to follow her plan.
Debutante Alice Knight is ready for her first social season in London. She's determined to impress society and her mother with an affluent match, at last escaping her past and embracing a future of her own making.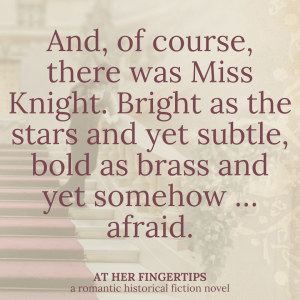 Peter Strauss, an American reporter visiting England, isn't exactly what Alice had in mind. However, his friendship proves invaluable as Alice faces the challenges of her debut. Almost immediately, she attracts the attention of a well-born gentleman—perfect save for the simple fact that he's not a Christian.
The life she longs for is finally at her fingertips, but between her own heart and the convictions of her faith, she isn't sure she ought to grasp it.
Buy on Amazon | Add on Goodreads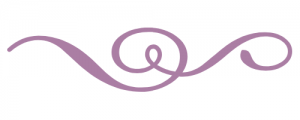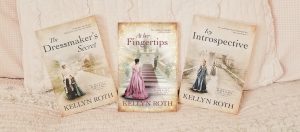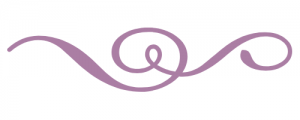 POSTS OF THE DAY
Guest Post // Andrea Cox @ Writing To Inspire
I loved deciding on this guest post (with Andrea's help!) and writing it because … it was just so fun. It talks about one of the most important themes in AHF … which is Alice's realization that her own poor grasp on self-strength is the thing that's taking her down!
Review // Tara Savanna @ Tower in the Plains
Tara's review was so sweet! I really enjoyed reading it. And she has been so incredibly kind and helpful throughout this tumultuous launch, too.
Interview with Nettie Jameson // Ryana Lynn @ Life of Heritage Corner
Awww, Nettie! <3 This interview really made me excited for both book 5 and her own novella.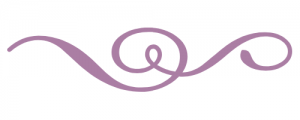 SCHEDULE
Wednesday, July 14th
Introduction Post // Kellyn Roth @ Reveries & Lilacs
Review // Hannah E.M. @ Precious Book Stacks
Thursday, July 15th
Introducing Alice // Kellyn Roth @ Reveries & Lilacs
Interview with Gibson Ashfield // SawyerMarie @ SundropGirls
Review // Kristina Hall, Author
BONUS POST: Review // Esther J. @ 'Neath the Hackleberry Reading Club
Friday, July 16th
Introducing … Love Interests!? // Kellyn Roth @ Reveries & Lilacs
Interview with Ivy Knight // Grace A. Johnson @ Gabbing with Grace
Review // Jenavieve Rose @ Living Outside the Lines
Saturday, July 17th
Launch Day // Kellyn Roth @ Reveries & Lilacs
Review // Loretta Marchize @ Just Writing
Sunday, July 18th
Themes // Kellyn Roth @ Reveries & Lilacs
Interview with Alice Knight // Katja L. @ Little Blossoms for Jesus
Monday, July 19th
Siblings // Kellyn Roth @ Reveries & Lilacs
Guest Post // Andrea Cox @ Writing To Inspire
Review // Tara Savanna @ Tower in the Plains
Interview with Nettie Jameson // Ryana Lynn @ Life of Heritage Corner
Tuesday, July 20th
Mothers // Kellyn Roth @ Reveries & Lilacs
Character Spotlight with Peter Strauss // Abigail Kay Harris @ Read Review Rejoice
Wednesday, July 21st
Wrapup Post // Kellyn Roth @ Reveries & Lilacs
Review // Michaela Bush @ Tangled Up in Writing
Saturday, July 24th
Giveaway Wrapup // Kellyn Roth @ Reveries & Lilacs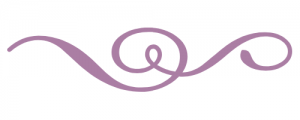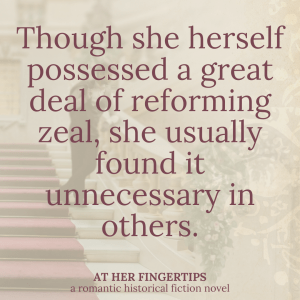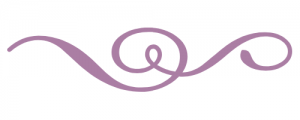 GIVEAWAY!
For the blog tour, I'm giving away this special prize bundle!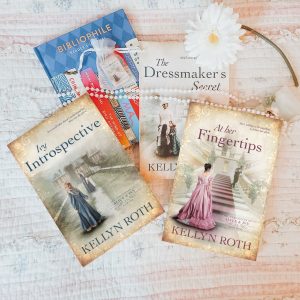 #ATHERFINGERTIPSBOOKISHTAG
To celebrate this relaunch, I'm hosting an Instagram tag!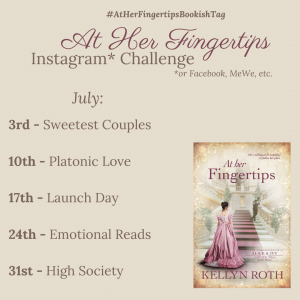 Rules
Follow the tags to enter the giveaway

To make sure your entries get counted, tag @kellynrothauthor!

If possible, use the tag #AtHerFingertipsBookishTag
Participants will be entered to win a $20 Amazon gift card and an ebook copy of At Her Fingertips.
Post Ideas:
3rd — Sweetest Couples
Books that contain sweet (romantic) couples or thoughts about what makes a sweet couple.
10th — Platonic Love
Books that contain awesome platonic relationships or thoughts about platonic love.
17th — Launch Day
A post about At Her Fingertips launching (could work as a freebie day).
24th — Emotional Reads
Books that made you cry or thoughts about emotional reads.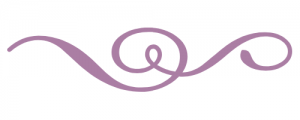 Introducing Alice and Ivy's Siblings (and honorary siblings)
Edmond Philip Knight – "Ned"
Ned is the son of Alice and Ivy's father, Philip, and his second wife, the late Miss Hazel Bailey.
He's a tall boy with hazel eyes (like his mom … yes, she was appropriately named!) and dark hair. Of the three boys, he's probably the quietest – and the most circumspect.
I purposefully wrote Ned to be a little "basic" – the kind of boy who learns the ropes of running the estate, who shoots and rides and hunts, who doesn't cause anyone trouble, who presents a stoic face to troubles but is tender to his loved ones.
Why? Because if I make him a walking cliché, I have more fun to work with later because I have to develop him into a unique and interesting character!
Caleb Arthur Knight
Caleb is the troublemaker of the family. He's energetic, thinks he's both funny and cute and has that whole "Teddy Roosevelt Treated-My-Own-Asthma-Through-Exercise" vibe going for him.
Caleb's best friend, though he'll never admit it, is Ella, Nettie's eldest daughter. She's about three months older than him – and she will never let him forget it.
Caleb has blue eyes, like his mother, and dark-ish hair, like his father. (His hair is probably a little lighter than Philip's just 'cause of how the genetics worked out, but still. Handsome dude.)
Caleb is actually the most fun to write of these siblings, especially as he gets older, but he has some fun moments in book 3!
John Clarence Knight – "Jackie"
Jackie is actually the child I know the least about! He's Caleb's "Irish twin," meaning they were born within a year of each other.
I know he is quiet and shy, but eventually becomes interested in politics, and I know he has blue eyes and golden-brown hair that turns blond in the sunlight, like Ivy, but otherwise … I don't know that much.
Mostly he exists as a counter to Caleb's insanity.
Rebecca Marie Knight
Rebecca is the youngest Knight sibling. Dark hair and blue eyes, like Caleb, and a sweet personality … shy as a child but firmer and more like her mother as she ages. Especially since she's got some bossy big brothers to out-sass!
I'm so excited to see her grow as the novels go on.
Malcolm Asher Jameson
Other than being responsible and devoted, I haven't shown much of Malcolm. He's Nettie's eldest child, a very wanted and loved child.
He takes after his father, being straightforward but caring and endlessly devoted to his mother and sisters. I enjoy his straightforward nature and his confidence most.
Like his mother, he has gray eyes, but his hair is a shade lighter. Actually, all the Jameson siblings look like that, so just apply what I said to the next two!
Elinor Hope Jameson – "Ella"
Ah, Ella. All the spunk and courage we ever needed … yet I never would let her lose her femininity, not even if Caleb wants her to!
She knows how to stand up to him and push him and break him, and she's only, what, seven? Endless respect, girl. Endless.
I'm going to have so much fun weaving more of Ella's nature in! Though her future actually involves a long stint as a stay-at-home daughter, well, she's still a really interesting character. One I really want to draw on as an example for some of my fellow Christian singles, because, due to her mother's excellent advice, she knows what's up!
Deborah Faith Jameson – "Debby"
Ah, Debby. All we know so far is that she's a handful, but I'm imagining a slightly more emotional and bubbly character for her that will stretch Nettie jussssttt a bit. After all, Nettie hasn't had to do anything outside her comfort zone in years. 😉
Why not let our most late-in-life-blessed character have a serious problem child?
But in all seriousness, I don't ever expect to spend nearly as much time on Debby as on the other siblings, simply because her future involves a quick marriage off-screen and a life as a farmer's wife, which is sweet, but not really story material unless you absolutely love the character!
TTFN
~Kell~
P.S.
Do you have siblings? How many? Would you like to hear more/see more of these siblings?